27th NYS Masters Championship -- RESULTS
Rob Gotterbarn Jr. Captures NYS Masters Crown
MARCH 5, 2017 -- Rob Gotterbarn Jr. of Garden City South captured the New York State Masters Championship on Saturday night at Farmingdale Lanes, defeating Mike Dioguardo of Patchogue, in an all-Long Island two-game title match, 486-409.
Gotterbarn, an engineer for the Long Island Railroad and the 2016 Long Island Masters champion, posted games of 247 and 239 on the challenging special 41-foot NYS Masters "Sport" oil pattern to outdistance Dioguardo, who struggled out of the gate for 176 before finishing strong with 233.
The victory was worth $2,500 and a paid entry to the 2018 USBC Masters for Gotternbarn, while Dioguardo (left in photo at right) took home $1,100 for his runner-up finish.
"I haven't been able to bowl that much lately due to my job, so this is like a shock really," Gotterbarn said after accepting the first-place check and plaque, and thanking those who stayed to watch the finals.
The champion said he used a Hammer Scandal for most of the tournament and went to the Track Kinetic Emerald when conditions called for it. He bowled 264 in the fourth game of the qualifying round to propel him to a 1,047 total.
Gotterbarn is part of a bowling family that includes his father, Robert Sr., manager of the NYC USBC; mother, Frances, who cheered him on during match play, and sister, Rebecca, who bowls for Adelphi College and is a member of Junior Team USA.
Gotterbarn reached the final match with a 462-428 win over left-hander Darren Andretta of New Hyde Park, and Dioguardo advanced by edging Terry Thompson of East Islip, 415-395, in the semifinals. Andretta and Thompson each earned $600.
In the Round of 16, Gotterbarn rolled 442 for his two games and survived by eight pins when Tom Solimine Jr. of Danbury, Ct., a member of the Westchester USBC, left a 10-pin in the 10th frame. Solimine won the NYS Masters in 2015.
Dioguardo, a former Long Island Masters champion and finalist in the PBA50 event at Farmingdale Lanes last year, also had a big fourth game in qualifying -- 258 -- to finish with 1,032.
An electrical engineer for BAE Systems, he then defeated PBA member Anthony Pepe of East Elmhurst, 441-427; Jeremy Milito of Holbrook, 401-393; and Justin Kampf of Levittown, 395-381, to advance to the semifinals. He said he had the most success when using a Storm Snap Lock.
The tournament, conducted by the NYS USBC with strong support from the Long Island USBC and the staff at Farmingdale Lanes, attracted a NYS Masters-record 179 entrants -- 87 on the 9:30 a.m. squad and 92 on the 1 p.m. squad.
Eighteen bowlers made the cut from the first squad (the cut was 974) and 19 advanced from the second squad (the cut was 986).
Shannon Sellens of Copiague, the three-time reigning NYS Queens champion, was the high qualifier on the first squad, posting 1,199 (a 239.8 average) for five games and Bill Hasiotis of Rochester, who won the Rochester NY USBC Senior Masters title earlier this year, led the second squad with 1,120.
Both Sellens and Hasiotis dropped their first matches -- Sellens losing to Milito, 414-413, and Hasiotis falling to Thompson, 483-441.
John Laurita of Valley Stream posted the tournament's only 300 game, that coming in the second game of the 1 p.m. qualifying squad.
Defending champion Nick Miseno of Ballston Lake tallied 924 for his five games, missing the cut by 62 pins..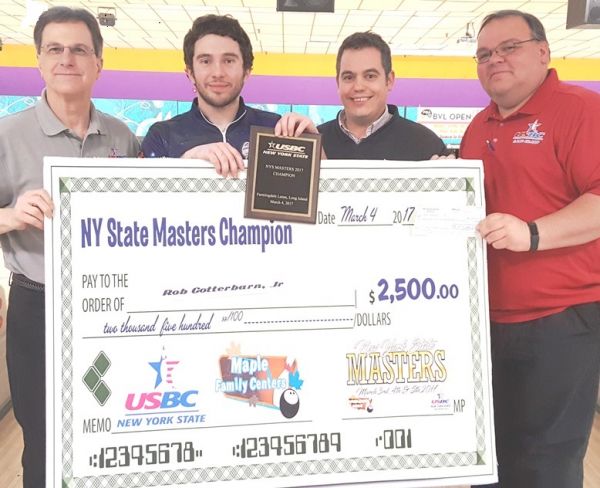 BIG PRIZE: Rob Gotterbarn Jr., second from left, won some "big bucks" on Saturday night by winning the 27th NYS Masters Championship at Farmingdale Lanes, not far from his hometown of Garden City South on Long Island. Taking part in the check presentation are, from