NYS Hall of Fame Nomination Forms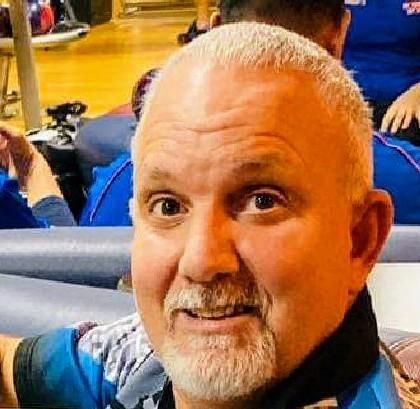 2020 Hall Of Fame Inductees
Hall of Fame and Service Awards: Seven people were inducted in the NYS USBC Hall of Fame and one Service Award was presented in 2020. For Outstanding Performance four bowlers from across the state were enshrined. Jerry Brunette, Jr. from Rochester, George Barnes form Buffalo and Beckie Ripic from Apalachin. Meritorious Service honor went to four people Kevin Martin of Rochester, Dennis O'Donnell of Auburn, Rosa Moro of Syracuse and Barbara Rake Apalachin. The Service to Youth Award was awarded to Stephen Fawcett of Schenectady. Due COVID there was no awards dinner, all winner were honored at the NYSUSBC Annual Meeting on July 17, 2021 which was virtual. CLICK HERE for list of their accomplishments.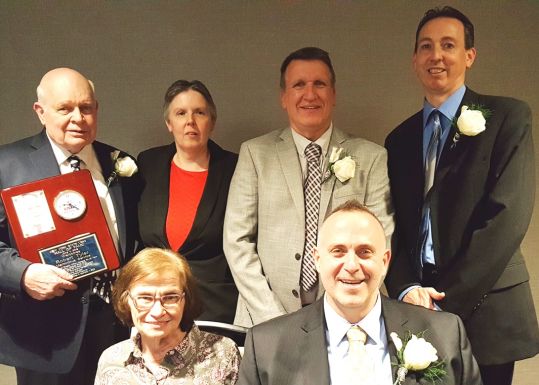 2019 Hall of Fame Inductees
HALL OF FAME, SERVICE AWARDS: Four people were inducted into the NYS USBC Hall of Fame and three others were presented with Service Awards on Saturday night in Syracuse. Front from left are Sandy Aitchison of Mamaroneck, Service to Youth Award, and Mark MacBain of Syracuse, Proprietor/Manager Recognition Award; back, Robert Tyler of Highland, HOF Meritorious Service; Kelley Foster of Ithaca, HOF Superior Performance; William Young of Cortland, HOF Superior Performance, and Patrick Brick of Buffalo, HOF Superior Performance. Sandy Suchy of Gloversville received the Service to Bowling/Community Award but was unable to attend.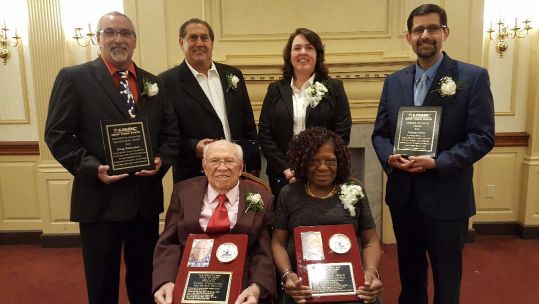 2018 Hall of Fame Inductees
HALL OF FAME, SERVICE AWARDS: The New York State USBC inducted four to the state Hall of Fame and honored two Adirondack USBC members for their service to the sport of bowling at its Hall of Fame & Awards Dinner on Saturday night (June 2) at The Desmond Hotel & Conference Center in Albany. Seated from left are Frank Cornicelli of Schenectady and Corinthia Ward of the Bronx, inducted for meritorious service; standing, Doug Bohannon of South Glens Falls, proprietor recognition; David Demperio of Syracuse, HOF superior performance; Helen Waite of Glens Falls, HOF superior performance, and Nelson Chase of Hudson Falls, service to youth. Photo by Mike Pettinella/NYS USBC association manager.
New York State USBC Hall Of Fame
MEN
(NYS USBC merger took effect in 2012)
2021 No Inductees due to the COVID Pandemic
2020 Jerry Brunette, Jr, Superior Performance
2020 George Barnes, Superior Performance
2020 Kevin Martin, Meritorious Service
2020 Dennis O'Donnell, Meritorious Service
2019 Patrick Brick, Buffalo, Superior Performance
2019 Robert Tyler, Highland, Meritorious Service
2019 William Young, Cortland, Superior Performance
2018 David Demperio, Syracuse, Superior Performance
2018 Frank Cornicelli, Schenectady, Meritorious Service
2017 Gary Kinyon, Lockport, Superior Performance
2017 Peter Sheridan, Cortland, Meritorious Service
2016 Tommy Kress, Hilton, Superior Performance
2016 John LaSpina, Long Beach, Meritorious Service
2015 Ron Priester, Albany, Superior Performance
2015 Marcel Fournier, Florida (formerly of Rochester), Meritorious Service
2014 Benny Appleby, Auburn, Superior Performance
2013 Joe Losurdo, Oswego/Syracuse, Superior Performance
2012 Robert Hoefer Oswego Superior Performance
2012 Thomas Solimine Sr. White Plains Meritorious Service
2011 Frank Formicola Rochester Meritorious Service
2011 Dick Battista * New York City Outstanding Ability
2010 Jack Moran Canandaigua Meritorious Service
2010 Mark Roth Fulton Outstanding Ability
2010 Tom Baker Buffalo Outstanding Ability
2010 Mike Faliero West Seneca Outstanding Ability
2008 Paul Kupelian Constantia Meritorious Service
2008 Frank Cannistra Utica Meritorious Service
2008 Thomas J. Minnegan Syracuse Outstanding Ability
2008 Gary B. Cunningham Syracuse Outstanding Ability
2008 Joseph Sopp * Cortland Outstanding Ability
2007 Edward Rundle * Ithaca Meritorious Service
2007 William Fortino Rochester Meritorious Service
2007 David Carpenter, Sr. Outstanding Ability - Veteran
2007 Clifford Saliba Syracuse Outstanding Ability
2006 Samuel Ventura Syracuse Outstanding Ability
2006 Michael Daley Syracuse Outstanding Ability
2006 Leo Casarsa * Buffalo Outstanding Ability
2005 Michael Tryniski Fulton Outstanding Ability
2005 Frank Asselta Utica Outstanding Ability
2004 George Zaharis * Johnson City Outstanding Ability
2004 Frank Hermans * Syracuse Outstanding Ability
2004 Andy Melynk Syracuse Outstanding Ability
2004 Mike Christie Albany Outstanding Ability
2003 Angelo Russo* Buffalo Outstanding Ability
2003 Francis Bax Niagara Falls Outstanding Ability
2002 Bud Schwabl Buffalo Outstanding Ability
2002 Martin Fichera Syracuse Outstanding Ability
2002 John Spadaro Eastern Long Island Meritorious Service
2002 Vito Galligano Rome Meritorious Service
2001 Hugo Mcgroty Schenectady Outstanding Ability
2001 "Richard Vigars, Jr.*" Schenectady Outstanding Ability
2001 Pete Cambio Buffalo Outstanding Ability - Veteran
2001 Ray Barton * Elmira Outstanding Ability
2001 Elmer Seidel * Rochester Meritorious Service
2000 Don Gates Syracuse Outstanding Ability
2000 Gus Lampo Endicott/Oneonta Outstanding Ability - Veteran
2000 Jim Lewis Albany Outstanding Ability - Veteran
2000 Al Faragalli * New York City Outstanding Ability
2000 Marty Casio * New York City Outstanding Ability
2000 Thomas DeChalus * Eastern Long Island Meritorious Service
2000 William Schwartzenberg * Westchester Meritorious Service
1999 Mark Chafel * Rochester Outstanding Ability
1999 Vince DiNapoli, Sr. * Rochester Outstanding Ability - Veteran
1999 Joe Goleblewski Buffalo Outstanding Ability
1999 Angelo Bell * Batavia Meritorious Service
1998 Junie McMahon * New York City Outstanding Ability
1998 Anthony "Nin" Angelo Lockport Outstanding Ability
1997 Mort Lindsay * New York City Outstanding Ability
1997 Arthur Jeziorski Buffalo Outstanding Ability
1997 Kenneth C. Kreger Tonawanda Meritorious Service
1997 Robert B. Lowe Tonawanda Meritorious Service
1996 Bruce Koch Rochester Outstanding Ability - Veteran
1996 Lou Campi * New York City Outstanding Ability
1996 Phil Versace Poughkeepsie Outstanding Ability
1996 Fred O. Reed * Clyde Meritorious Service
1996 Milton E. Alt * Rochester Meritorious Service
1995 Ray DiSanto Rochester Outstanding Ability - Veteran
1995 Phil Cleary Binghamton Outstanding Ability
1995 Edward Reddy * Syracuse Meritorious Service
1995 Jerry Back * Buffalo Outstanding Ability
1995 Frank Santore * New York City Outstanding Ability
1995 Charles Young * Albany Meritorious Service
1995 Sam Furcinito * Utica Meritorious Service
1994 Ken Campbell * Ithaca Outstanding Ability
1994 Jerry Cargill, Sr. Endicott Meritorious Service
1993 Louis Scrimale Syracuse Outstanding Ability
1993 Anthony Quaranto, Sr. Niagara Falls Meritorious Service
1993 Joseph Paussa, Jr. * Syracuse Meritorious Service
1993 J. Nelson Thurston * Lockport Meritorious Service
1993 Joseph Higgins Fulton Meritorious Service
1992 Marty Piraino * Syracuse Outstanding Ability
1992 Joseph Malambri * Fulton Meritorious Service
1992 Joseph Koch * Rochester Outstanding Ability - Veteran
1992 John R. Capozzi Ithaca Meritorious Service
1992 Ben Berinstein * Syracuse Meritorious Service
1992 Louis Barnard Elmira Outstanding Ability
1991 John Russo * Syracuse Outstanding Ability
1991 Harold Shaul * Binghamton Meritorious Service
1991 John R. Nevada * Rochester Meritorious Service
1990 Butch Hoefner * Rochester Outstanding Ability
1990 Victor Giromini * Syracuse Outstanding Ability
1990 Morris Cramer Troy Outstanding Ability
1990 William Landgraf * New York City Meritorious Service
1989 Ralph Engan * Westchester Outstanding Ability
1989 Lil Villani Niagara Falls Outstanding Ability
1989 John Walther, Jr. * Albany Outstanding Ability
1989 Herbert E. Burns * Tonawanda Meritorious Service
1988 George Young * Long Island Outstanding Ability
1988 Joe Schmidt * Albany Outstanding Ability
1988 Joe Minella * Rochester Meritorious Service
1988 Chet Power * Rochester Meritorious Service
1988 Robert Lynch * Yonkers Meritorious Service
1987 Edwin Wildey * Rochester Meritorious Service
1987 Blase P. Palumbo * Buffalo Meritorious Service
1987 Vic Herrmann Buffalo Outstanding Ability
1987 Robert Allen * Westchester Outstanding Ability
1986 Jack Zack * Buffalo Outstanding Ability
1986 Richard Vigars, Sr. * Albany Outstanding Ability
1986 Al Lattin * New York City Meritorious Service
1986 Addison Jones * Kingston Meritorious Service
1986 Greg Griffo * Syracuse Outstanding Ability
1986 Joe Difiglia * Buffalo Outstanding Ability
1986 Eddie Adams * Buffalo Outstanding Ability
1985 Larry Sutton * Rochester Outstanding Ability
1985 James Schroeder Buffalo Outstanding Ability
1985 George A. Obenauer * Buffalo Meritorious Service
1985 William Marchese * Buffalo Meritorious Service
1984 Berard Sarno, Sr. * Syracuse Meritorious Service
1984 Joseph Robelotto * Albany Meritorious Service
1984 John Quinzi * Rochester Outstanding Ability
1984 Maurice Hayes * Rochester Meritorious Service
1984 Steve Czerwinski * Buffalo Outstanding Ability
1982 Andy Varipapa * West Hempstead Ability - Charter Member
1982 Barry Spinella * New York City Ability - Charter Member
1982 Tony Sparando * Rego Park Ability - Charter Member
1982 James Smith * Buffalo Ability - Charter Member
1982 John O. Martino * Syracuse Ability - Charter Member
1982 John Koster * East Nyack Ability - Charter Member
1982 Joe Falcaro * New York City Ability - Charter Member
1982 Grazio Castellano * New York City Ability - Charter Member
1982 Frank Caruana * Buffalo Ability - Charter Member
1982 Allie Brandt * Lockport Ability - Charter Member
1982 Joe Thum * New York City Meritorious - Charter Member
 *Deceased
Women
(NYS USBC merger took effect in 2012)
2021 No Inductees due to the COVID Pandemic
2020 Beckie Ripic, Superior Performance
2020 Rosa Moro, Meritorious Service
2020 Barbara Rake, Meritorious Service
2019 Kelley Foster, Ithaca, Superior Performance
2018 Corinthia Ward, Bronx, Meritorious Service
2018 Helen Waite, Glens Falls, Superior Performance 
2017 Joan Ashby, Auburn, Meritorious Service
2017 Roseann DiFlorio, Syracuse, Superior Performance
2016 Margaret Clinton-Jensen, Staten Island, Meritorious Service
2016 Bambi Asmuth, Rochester, Superior Performance
2015 Jane Abraham, Oswego, Meritorious Service
2015 Patti TeNyenhuis, Saugerties, Superior Performance
2014 Traci Spanitz, Rochester, Superior Performance
2014 Margaret Lancaster, Marion, Meritorious Service
2013 Jodi Musto, Schenectady, Superior Performance
2013 Anne Strom Baird, Cortland, Meritorious Service
2012 Gina Wrights Redding, Rochester, Superior Performance
2012 Patricia Allen, Ithaca, Meritorious Service  *
2011 Sheila Allen, Peekskill, Superior Performance
2011 Marilyn Johnson, Poughkeepsie, Meritorious Service
2010 Kathy Cavicchi, Long Island, Superior Performance
2010 JoAnn LaTulip, Oswego/Syracuse, Meritorious Service
2009 Liz A. Johnson, Greater Buffalo, Superior Performance
2009 Priscilla Zonneville, Wayne County, Meritorious Service  *
2008 Denise De Carlo Johnson, Albany Superior Performance
2008 Elizabeth Taylor, Gloversville, Meritorious Service
2007 Janet Manfredi, Poughkeepsie, Superior Performance
2007 Betty K. Kingsley, Rochester, Meritorious Service
2006 Colleen Celentani, Rochester, Superior Performance
2006 Vi Bonomo, Utica, Meritorious Service  * 
2005 Maureen Baker, Rockland Co., Meritorious Service  *
2005 Alberta Wambold, Rochester, Superior Performance
2004 Bibsy Wansor, Nassau County, Meritorious Service  *
2004 Jeanne Zappulla, New York City, Superior Performance
2003 Claire 'Penny' Noller, Nassau Co., Meritorious Service
2003 Cindy Coburn-Carroll, Buffalo, Superior Performance
2003 Esther Henry, Rochester, Superior Performance  *
2002 Mary Louise Corkery, Jamestown, Meritorious Service
2002 Marie Mazone, Albany, Superior Performance
2001 Betty R. Hopkins, Rochester, Meritorious Service
2001 Carol Crandall, Schenectady, Superior Performance
2000 Beverly Schino, Ithaca, Meritorious Service  *
2000 Susan George, Suffolk County, Superior Performance
2000 Mildred Hunt, B-J C-E, Meritorious Service *
1999 Frances McCormick, Albany, Meritorious Service *
1999 Freida Gates, Syracuse, Superior Performance
1998 Nancy Walczyk, Erie County, Meritorious Service
1998 Joann Peworchik, B-JC-E, Superior Performance
1997 Irene Kreidler, Nassau County, Meritorious Service *
1997 Sandy Love, Rochester, Superior Performance
1996 Connie Coulter, Glens Falls, Meritorious Service 
1995 Frances Lansbury, Auburn, Meritorious Service  *
1995 Judy Koester, Rochester, Superior Performance 
1994 Pearl Keller, Westchester, Meritorious Service
1994 Jennette Adams, Syracuse, Superior Performance
1993 Marie Baxter, Nassau County, Superior Performance
1993 Anna M. Fries, Poughkeepsie, Meritorious Service  *
1992 Ethel Brock, Westchester, Meritorious Service *
1992 Barbara Shelton, Nassau County, Superior Performance
1991 Connie Barlette, Albany, Meritorious Service *
1990 Helen Green, Buffalo, Superior Performance  *
1990 Mary Smack, B-JC-E, Meritorious Service *
1989 Helena Perry, Schenectady, Meritorious Service  *
1989 Barbara Leicht-Bowers, Albany, Superior Performance  *
1988 Betty Maw, Buffalo, Superior Performance
1988 Mary Peters, Syracuse, Meritorious Service *
1987 Frances Bessette, Plattsburgh, Meritorious Service  *
1987 Rose Schatzel, Kingston, Superior Performance
1986 Phyllis Notaro, Buffalo, Superior Performance
1986 Lillian Oliver, Nassau County, Meritorious Service  *
1985 Marie Munson, Niagara Falls, Meritorious Service  *
1985 Jane Rossi, Westchester, Meritorious Service *
1984 Frances Priolo, Syracuse, Superior Performance  *
1983 Ethel Vogelsang, Buffalo, Superior Performance  * 
1982 Martha Martell, Rochester, Meritorious Service  *
1981 Gladys O' Neill, Gouveneur, Meritorious Service * 
1980 Jean Godkin, Geneva, Meritorious Service
1979 Hazel Fischer, Syracuse, Meritorious Service *
1978 Katherine Linder, Jamestown, Meritorious Service *
1977 Jean Leffers, Buffalo, Meritorious Service *
1977 Anne Happel, Poughkeepsie, Meritorious Service *
1976  Mildred Ignizio, Rochester, Superior Performance
1975 Doris Coburn, Buffalo, Superior Performance
1974 Ermine K. Mulholland, Albany, Meritorious Service *
1974 Margaret J. Barry, Buffalo, Meritorious Service  *
1973 Harriet Darling, Syracuse, Meritorious Service *
1972 Edith Flansburg, Utica, Meritorious Service *
1971 Clover Bayley, Watertown, Meritorious Service *
1970 Gladys Banker, Finger Lakes, Meritorious Service *
1969 Emily Chapman, Poughkeepsie, Meritorious Service *
1968 Addie Ruschmeyer, Westchester, Superior Performance *
1967 Mary E. Ward,  Rochester, Meritorious Service *
1966 Theresa Reynolds, B-JC-E, Meritorious Service *
1965 Ruth Brisson, Syracuse, Meritorious Service *
1964 Alice Love, Jamestown, Meritorious Service *
1963 Alberta E. Crowe, Syracuse, Meritorious Service *
1963  Hattie Dean, Buffalo, Meritorious Service *
1963 Josephine Slezak, NYC, Meritorious Service *
1962 Ruth Hunzinger, Utica, Meritorious Service *
1961 Iolia F. Lasher, Albany, Meritorious Service *
 *Deceased