29th NYS Masters Championship -- RESULTS
Dan Vick Captures NYS Masters Crown
Lefty Rolls 'Sport' 300 on Way to Title
MARCH 3, 2019 -- Pittsford's Dan Vick (Rochester NY USBC) solidified his place as one of the state's finest scratch singles tournament bowlers Saturday by capturing the 29th New York State Masters Championship – and bowling a 300 game in the process – at Dixie Lanes in Elmira.
The 32-year-old left-hander added another title to his impressive resume as well as $2,000 to his bank account with a 485-388 victory over hometown favorite Jordan D'Angelo (Elmira USBC) in the two-game total pins title match.
CLICK HERE for qualifiers and match play results.
Vick, who also will receive a paid entry to the 2020 USBC Masters, rolled 254 and 231, while D'Angelo, who earned $1,000 for placing second, posted games of 195-193.
Vick reached the final match with a 422-403 win over Adam Chase of North Babylon (Long Island USBC) while D'Angelo made it to the last round by defeating high-qualifier Chris Bardol of Brockport (Genesee Region USBC), 396-361.
Chase and Bardol each won $400 from the $8,340 prize fund.
The tournament, which was contested on a specially-crafted 39-foot Sport oil pattern by Kegel, drew 110 entries – 38 on the 9 a.m. squad and a full field of 72 on the 12:30 p.m. squad.
All bowlers rolled five qualifying round games, with 1:5 from each squad advancing to the head-to-head finals.
Vick's 300 game came in the second round of match play.
A former Junior Team USA member, Vick's previous titles include the 2018 Super Bud Bowl in Oswego, Brockmyre Classic in Newark, Rochester USBC Masters (twice) and Intercollegiate Singles Tournament. 
After qualifying in the No. 2 position off the first squad with 1,175 to earn a bye, Vick came out strong in the second round of match play against Noel Ocasio of Holbrook (Long Island USBC) with a 223 game and followed that with a 300 game on lanes 21-22.
From there, he defeated Joseph Clarke of Westdale (Rome NY USBC), 367-358, escaping when Clarke missed the 2-pin in the 10th frame of the second game.
"I got lucky; that was an ugly match," Vick said.
He put together a pair of 211 games to stop Chase in the semifinals before rolling past D'Angelo in the title match.
Bowling on a fresh pair -- lanes 7-8, Vick left a 2-7 split on the first shot but adjusted off of that – and changed to a Brunswick King Pin Rule ball – to get back in the 1-2 pocket.
"That pair hooked more than I expected and after I left the 2-7 I moved to where I bowled the 300 game and made the same shot. I managed to pick the split (hitting the 2-pin to the right)," he said. "After that I had a great reaction."
With the NYS Masters under his belt, Vick, who is employed as a test engineer, said he will travel to Oswego next weekend to attempt to defend his Super Bud Bowl crown.
D'Angelo rallied from behind in three of his matches to reach the finals, using a 253 second game to oust second-squad high qualifier Matt White of Warren, Pa. (Jamestown Area USBC), a 225 second game to stop Josh Underwood of Rochester (Rochester NY USBC) and a 237 second game to defeat Bardol.
The 31-year-old right-hander, a painter for the Hilliard Corp., said he may have been "too amped up at the start" of those matches, but settled himself down.
He added that he doesn't bowl in many tournaments, but was pleased that the Masters was held in Elmira to give the local bowling fans a chance to watch high-level bowling.
Eliminated in the quarterfinals were Shannon Sellens of Copiague (Long Island USBC), the four-time NYS Queens champion; Underwood, Clarke and Bill Hasiotis of Rochester (Rochester NY USBC). Sellens rolled 438 and 461 in her two victories before dropping a 454-438 decision to Chase.
The NYS USBC would like to thank the management and staff of Dixie Lanes and the volunteers who assisted at the tournament, which ran without a hitch.
The 2020 NYS Masters is scheduled for March 7 at King Pin Lanes in Rome.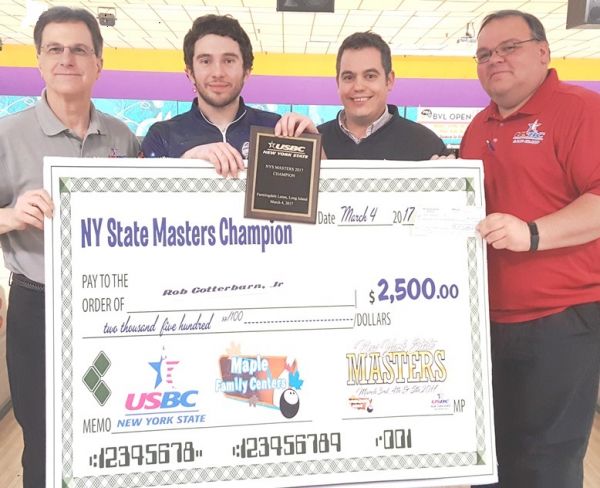 VICK-TORIOUS: Mike Pettinella, left, New York State USBC association manager, congratulates Dan Vick, center, after winning the 29th NYS Masters Saturday night at Dixie Lanes in Elmira. Vick topped Jordan D'Angelo, right, of Elmira in the title match.