44th Annual NYS Queens Championship -- RESULTS
Sellens, Snyder Shine at 44th NYS Queens
APRIL 19, 2015
SYRACUSE – Shannon Sellens of Copiague (Long Island USBC) successfully defended her Open Division title while teenager Sara Snyder of Depew (Greater Buffalo USBC) claimed the Classified Division (194-and-under) crown in the 44th annual NYS Queens Championship on Saturday night at Thunderbird Lanes.
Sellens defeated Emily Notebaert of Rochester (Rochester USBC BA), 194-180, for the $1,050 first prize. The Open Division drew 90 entrants.
Last month, the 32-year-old right-hander became the first woman to win the Long Island Masters, which carried a $4,000 first prize.
Snyder, a junior at Depew High School, upended Diana Lamb of Putnam Valley (Westchester County USBC), 191-170, in the Classified Division. The first prize of $600 will be deposited into the 16-year-old right-hander's SMART account. The Classified Division drew 37 entrants.
Michelle Montgoris of Bethpage (Long Island USBC) rolled a 300 game in the qualifying round of the Open Division.
OPEN DIVISION
Sellens came through with doubles in the 10th frame to win her first two matches – including a rematch against last year's title game opponent, professional star Liz Johnson of Cheektowaga – and earn the top seed for the stepladder finals this year. She edged Adrienne Turbeville of Minoa, 227-224, in the round of 16 and Johnson, 245-237, in the round of 8.
The higher seed in both matches, she chose to finish the match and her decision paid off.
"I like to finish the match and my fate into my own hands. That's why when I have the choice, I choose to start the match," she said.
After surviving those two exciting matches, Sellens watched as Pam Burns defeated Desiree Lee, 248-183, in a battle of Endicott bowlers, before the 19-year-old Notebaert eliminated Burns, 202-145.
In the championship match, Sellens struck in the sixth and seventh frames to take a slim lead over Notebaert, a national high school record holder last year with a 241 average. She left the 6-7-10 split in the eighth frame and failed to convert.
Notebaert, on a strike, stepped up in the ninth frame with a chance to move up by 12 pins but came light and left the 5-7-10 split – stunning an enthusiastic crowd. She knocked down the 5-7, before sparing in the 10th frame for a 180.
Sellens, using a Roto-Grip Hypercell as she did in last year's Queens, needed a mark to win and carried a light hit for a strike to lock up her second straight Queens title.
"I was shocked when she left the 5-7-10," Sellens said. "She throws the ball phenomenally well, and certainly has a bright future if she stays with it."
Notebaert, who said she will be competing in Junior Gold in Chicago in July, said she wasn't expecting much in her first Queens but added that it was "great that I made the cut."  The Corning Community College student's $600 second place check will be deposited into her SMART account.
Sellens qualified fourth with an 1,119 total for five games while Notebaert was ninth at 1,099. Eryn Bohleber of Yaphank (Long Island) was the high qualifier with 1,195 (a 239 average on the 45-foot Kegel Route 66 oil pattern).
CLASSIFIED DIVISION
Snyder, a high school sectional champion and winner of last year's Western New York Queens, said she overcame the jitters to outlast 36 others in the NYS Queens 194-and-under division.
"I was extremely nervous," said Snyder, who is looking forward to the Teen Masters in Las Vegas in June and the Junior Gold in July.
She didn't look nervous on the lanes, however, as she posted a 1,002 score in the qualifying round before shooting 237 in match play against Melinda Johnson of Penn Yan to earn the top seed for the stepladder finals.
Diana Lamb of Putnam Valley opened the stepladder finals with a 252-174 win over Michelle Scioria of Rochester and followed that with a 207-203 victory over Deanna Rose, also of Rochester.
In the final game, Snyder, using a DV8 Rude Dude and playing an inside line, registered a 191-170 win.  Lamb earned $375 for her second-place finish.
Snyder said she did some homework on the Route 66 oil pattern in preparation for the tournament.
"I used the 'minus 31' rule (a system to determine the ball's breakpoint at the end of the oil pattern) and watched a video on how to play the shot," said Snyder, who added she hopes to attend – and bowl at – St. Francis University in Pennsylvania.
Kim Flood of Syracuse was the high qualifier in the Classified Division with 1,008.
Forms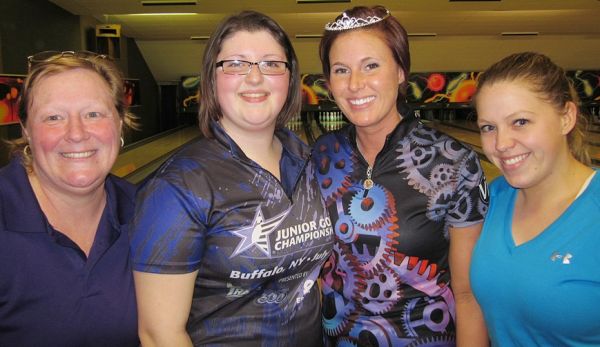 OPEN FINALISTS: Stepladder finalists in the Queens Open Division are, from left, Pam Burns of Endicott, Emily Notebaert of Rochester, Shannon Sellens of Long Island and Desiree Lee of Endicott.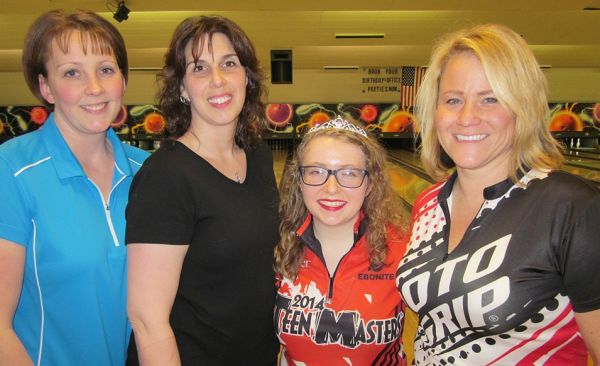 CLASSIFIED FINALISTS: Stepladder finalists in the Queens Classified (194-and-Under) Division are, from left, Michelle Scioria of Rochester, Diana Lamb of Putnam Valley, Sara Snyder of Depew and Deanna Rose of Rochester.