47th NYS Queens Championship -- RESULTS
Kuhlkin Captures 'Open' Crown; Holt Tops 'Classified' Field
APRIL 22, 2018 -- Liz Kuhlkin of Rotterdam (Schenectady USBC) threw two clutch strikes in the 10th frame Saturday to oust four-time defending champion Shallon Sellens of Copiague (Long Island USBC) in the opening match of the stepladder finals and went on to capture the NYS Queens Championship Open Division crown at Pat Tarsio Lanes in Newburgh.
Kuhlkin, 24, a Professional Women's Bowling Association tournament winner, claimed the $1,050 first prize with a 253-202 victory over high qualifier and top-seeded Kelly Leskoske of Syracuse (Syracuse USBC WBA) in the title match of the stepladder finals.
In her previous matches, Kuhlkin edged Sellens, who was looking for her fifth straight Open victory, 207-201, by striking twice in the final frame. She then defeated Rebekah Van Scoyk of Kingston (Kingston USBC), 223-197.
The Open Division drew 91 entrants.
Rhonda Holt of Warwick (Tri-County NY USBC) prevailed in the Classified Division (194-and-under) with a 170-162 win over Tina Becciu of East Syracuse (Syracuse USBC WBA) in the title match. She earned $400.
Becciu had advanced with a 170-167 win over Mallory Stachnik of East Syracuse (Syracuse USBC WBA) following Stachnik's 163-153 victory over defending champion Amy Emens of Rochester (Rochester NY USBC).
The Classified Division had 22 entrants.
The tournament was bowled on the Kegel "Chichen Itza" Challenge oil pattern -- 40 feet with a 3:1 ratio.
The NYS USBC would like to thank directors of the Mid-Hudson USBC and the management and staff of Pat Tarsio Lanes for their support during the tournament.
OPEN DIVISION SUMMARY
Kuhlkin qualified in the sixth position with a 1,088 score for five games, and then topped Devan Hodlik of Watervliet and Brittany Frament of Renselaer to reach the stepladder finals.
Bowling in her third Queens, the right-hander rallied after missing a 10-pin late in the first match of the stepladder finals against Sellens.
"I was pretty fortunate against Shannon, who is a really good competitor," Kuhlkin said. "She left me a few openings and I was able to take advantage of them."
After that, Kuhlkin said she used two different DV8 balls -- the Creed Revelation and the Vandal Strike -- in the final two matches to claim the title.
"Those balls are a good complement to each other," she said.
Kuhlkin is leaving later this week for the PWBA Tour, and said her Queens triumph is "an incredible tune-up and an incredible feeling."
She also said she was glad to win the tournament with her parents, Mark and Ricki, cheering her on.
In the qualifying round, Leskoske led the way with an 1,129 total, eight pins more than Stephanie Casey of Yonkers (Westchester County USBC). Leskoske won two matches to reach the stepladder finals, while Casey fell to Sellens in the second round.
Sellens qualified in the seventh position with 1,045 (coming back after a 152 start) and made it to the stepladder round once again. She said that while the number of entries were about the same, the level of competition increased.
"The competition is definitely higher ... which is good for New York State," she said. "I noticed a lot of new faces, and see that a lot of college girls are coming out."
Leskoske won $625 for her runner-up finish while VanScoyk earned $425 and Sellens $325.
CLASSIFIED DIVISION SUMMARY
Holt captured her first Queens Classified title in her first attempt, going wire-to-wire by leading the qualifying round, defeating Rosa Moro of East Syracuse (Syracuse USBC WBA), 200-170, in match play, and then downing Becciu in the stepladder finals.
"This is pretty scary," said Holt, 57, as an initial reaction to her victory in her first-ever Queens competition. She said that she decided to bowl at the urging of her friend, Sharon Alexander, who competed in the Open Division.
Holt said picking her spares was the key to her success because "it was so hard to find the strike zone."
"I've never seen oil like that before. The ball didn't hook in like on a normal shot. It was quite an experience," she said, adding that she intends to defend her crown next year when the tournament moves to Saratoga Strike Zone in Saratoga Springs.
Becciu won $225 for placing second while Stachnik earned $175 and Emens took home $150.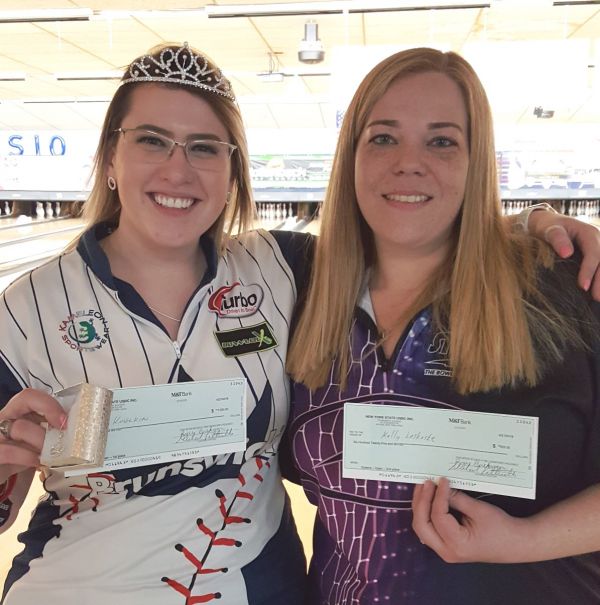 OPEN DIVISION TOP TWO: Liz Kuhlkin, left, and Kelly Leskoske, top two finishers in the Open Division.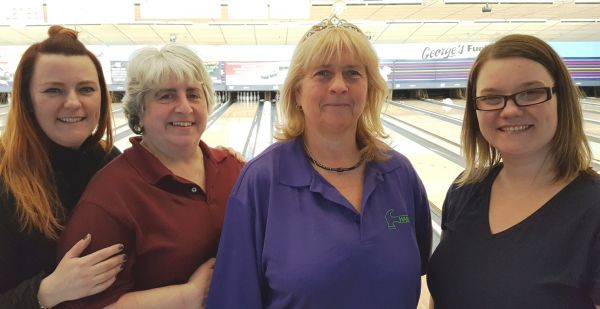 CLASSIFIED FINALISTS: From left, Classified Division finalists Amy Emens, Tina Becciu, Rhonda Holt and Mallory Stachnik.