48th NYS Queens Championship -- RESULTS
Kuhlkin Defends 'Open' Crown; Szczepkowski 1st in 'Classified'
APRIL 14, 2019 – Liz Kuhlkin (Schenectady USBC) successfully defended her Open Division title on Saturday by averaging 252 for her three stepladder final matches in the 48th annual NYS Queens Championship at Saratoga Strike Zone in Saratoga Springs.
The 25-year-old Schenectady right-hander, winner of the U.S. Women's Open last June, defeated Anne Connor of New York Mills (Rome NY USBC), 256-188, and Shanna Chepelsky of East Rochester (Rochester NY USBC), 222-182, before upending top-seeded Suzanne Morine of Castleton on Hudson (Albany USBC), 278-223, for the crown.
The victory was worth $850 and a paid entry to the USBC Queens in May in Wichita, Kansas.
In the Classified (194-and-Under) Division, Amanda Szczepkowski of Rensselaer (Albany USBC) placed first, also winning three matches in the stepladder finals. Her 158-136 victory over No. 1 seed Laurie Defone of Rochester (Rochester NY USBC) was worth $300.
Szczepkowski reached the title match by defeating Marlene Mirabile of Coram (Long Island USBC), 184-142, and Emily Bason of Gouverneur (Harrisville USBC), 182-165.
The Open Division drew 75 entrants while there were 18 competitors in the Classified Division.
In the 50-and-Over bonus competition, cashers were Patti TeNyenhuis of Saugerties, $90; Laura Rotter of Schenectady, $50, and Ursula Pasquerella of Schenectady, $30.
OPEN DIVISION SUMMARY
Kuhlkin just made it into match play, posting a 1,013 total as several bowlers were in contention entering the fifth and last qualifying game.
"I just squeaked in (to the finals)," Kuhlkin said. "I had to double in the 10th frame of the last game to make the cut."
As it turned out, it took 1,010 to make the cut, with 16-year-old Molly Chiesa of Wingdale nailing down the final cashing spot.
Morine and four-time Queens champion Shannon Sellens of Copiague led the qualifying with 1,175 each; Morine claimed the No. 1 seed by virtue of her 277 game.
In match play, Morine recorded victories with 212 and 247 to keep her top position, while Chepelsky edged Sellens and then won in the quarterfinals with a 222 game to take the No. 2 seed and Connor won her two matches with games of 220 and 165 for the No. 4 seed.
Kuhlkin, meanwhile, rolled 269 and 214 to earn the No. 3 seed, and followed that up with her big games in the stepladder finals.
She said she turned to a Kingpin Rule in match play, which enabled her to stay to the right and maintain a consistent look to the 1-3 pocket.
"I was able to play pretty much the same line and I had really good carry," she said, adding that she was able to carry the light hit throughout.
In the title match, Kuhkin notched 10 strikes, including a string of eight starting in the fourth frame, to defeat Morine.
Morine had the best look of all the competitors all day, and had seven strikes in the championship match, but was victimized by a 2-8-10 in the first frame and 2-10 in the 10th.
Kuhlkin said she is honored to be able to win the event twice in a row and to represent New York State in the USBC Queens.
"This tournament does mean a lot to me. I take pride in being from New York and I know my roots, and I never forget about that," she said. "It was especially nice to win in Saratoga, not quite in my back yard, but about an hour away.  This is a great feeling to go onto the (PWBA Tour) off of a fresh win here."
CLASSIFIED DIVISION SUMMARY 
Szczepkowski came through with a 222 in the final qualifying game to place sixth (the top eight advanced) and went on to victory, capping a comeback from foot surgery that forced her to miss last year's tournament.
"I used to bowl in the Open Division, and since my surgery I've been struggling and my average has gone from 190's to high 170's, so I figured I'd give it a shot," she said. "Hopefully, this is the start of increasing my average."
Bason led all qualifiers with a 960 score on a 40-foot Challenge pattern designed for the event by Kegel's Doug Dukes.
The NYS USBC wishes to thank Proprietor Rich Sheldon and his staff at Saratoga Strike Zone for hosting the tournament and for their assistance.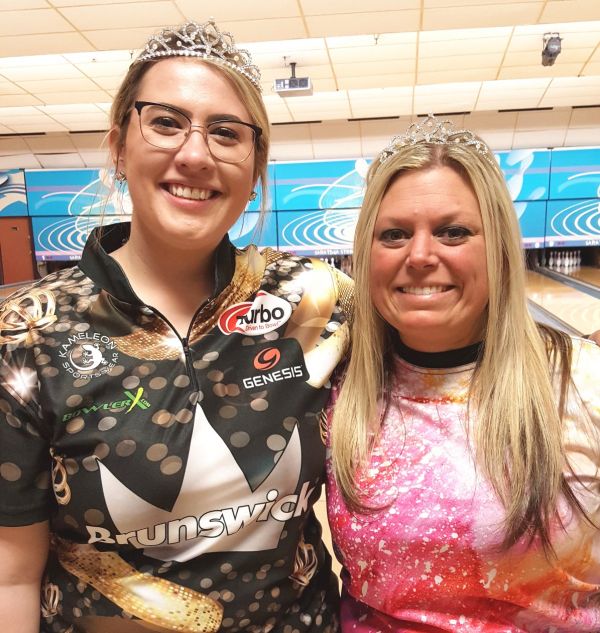 Queens: Liz Kuhlkin, left, and Amanda Szczepkowski