30th NYS Masters Championship -- RESULTS
Dan Keenan Tops Chepelsky
in All-Rochester Title Match
Dan Keenan defeated Shanna Chepelsky, 460-302, in an all-Rochester two-game title match Saturday night to capture the 30th NYS Masters Championship at King Pin Lanes in Rome.
The victory is worth $2,000 and a paid entry to the 2021 USBC Masters (plus $200 toward expenses) for Keenan, manager of Jeremiah's Restaurant, while Chepelsky, a paralegal, earned $1,000 in her first NYS Masters appearance.
The tournament, contested on a 41-foot Sport oil pattern specially designed by Kegel, drew 118 bowlers -- 58 on the first squad (due to two late cancellations) and 60 on the second squad.
The top 12 from each squad advanced to the two-game match play finals. It took a five-game total of 1029 to make the cut on the first squad and 1020 to make the cut on the second squad.
Keenan, winner of the 2015 Super Bud Bowl and the 2014 Rochester NY USBC Masters, advanced to the championship match by defeating Dave Jecko of Whitesboro, 412-385, while Chepelsky made to the final round with a 411-401 victory over Steve Wagoner of Broadalbin, coming through with the first strike in the 10th frame to prevail.
Jecko and Wagoner each earned $450 for reaching the semifinals.
In the title match, Keenan found the line right away and posted a 269 game, while Chepelsky was victimized by four splits en route to a146 game.
Keenan said the key to his success was staying in the moment and trying not to look to far ahead.
"(In tournaments with) long formats, I love them," Keenan said. "It's a grind and you have to stay focused. You can't get ahead of yourself. You can't think what's going to happen in three games. You have to stay focused especially when they're as hard as they are."
Using a couple of DVD Verge bowling balls (after going with the Radical Squatch Pearl in the qualifying round), Keenan posted match play victories over Doug Stoddard of Utica, Kevin Smith of North Syracuse, Matt Fazzone of Rotterdam and Jecko before facing Chepelsky.
"Every match is tough against the caliber of bowlers in the field, but to beat Matt Fazzone, probably the best left-hander in the Albany area, and Dave Jecko, the hottest bowler in New York State coming off the Syracuse (Post Standard) Masters' win (was especially difficult)," he said. "And then against Shanna, I expected to have to shoot 250-250 because she's really tough."
Keenan qualified off the second squad with a 1,045 total, but ran into some real problems early.
"They (lane conditions) were really hard. After the first game, I went to 25-26 and had a six-strike 144 game," he said. "After that I had to give myself a little pep talk. I was fortunate enough in the next game to shoot 267 and get myself back into the number. From there, stay focused and take it one shot at a time."
As far as winning the NYS Masters, he said, "It's one I've always wanted to add to the resume, and I'm very happy to be able to do it."
Chepelsky said she's encouraged by her overall performance and will use the experience to help her down the road.
"Being that this was my first New York State Masters, I just wanted to come in with an open mind and try to read the lanes and execute shots the best I could," she said.
"I had a really good look in the morning (she qualified off the first squad with a 1,043) and then during match play it was a totally different ballgame. I just took one shot at a time and fortunately had some breaks go my way. I ran into a buzz saw in the finals, so I really can't be too upset about it."
In her semifinal match, she said she felt confident going into the 10th frame with an opportunity to win.
"I really like being in a position where I can step up in the 10th frame and win a match," she said. "It makes it real easy for me to go through my pre-shot routine and just let my muscle memory take over and do what my body knows what it needs to do."
Chepelsky said she plans to bowl on the Professional Women's Bowling Association tour this spring, with the USBC Queens in May as her first event, and also will be entering the NYS Queens Championship on April 18 at Flamingo Bowl in Liverpool.
The high game of the tournament was a 297 rolled by Adrian Hollister of Whitehall in the fifth game of the 12:30 p.m. qualifying round.
The NYS USBC wishes to thank management and staff at King Pin Lanes and the Rome NY USBC association volunteers for their input in making the tournament a smooth and successful event.
-- Story by Mike Pettinella, NYS USBC association manager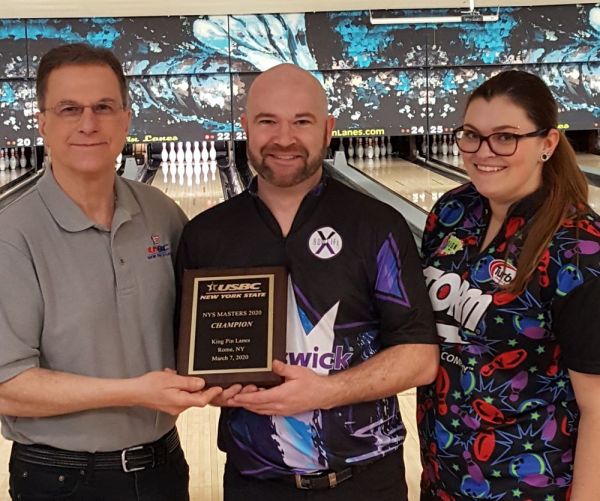 : KEENAN IS KING: NYS USBC Association Manager Mike Pettinella, left, presents the NYS Masters Championship plaque to Dan Keenan as runner-up Shanna Chepelsky looks on Saturday night at King Pin Lanes in Rome. Keenan and Chepelsky are from Rochester and Ea