43rd Annual NYS Queens Championships -- RESULTS
Sellens, Porter Finish Strong to Capture Queens Crowns
WAPPINGERS FALLS – Shannon Sellens of Copiague (L.I.) and Kristina Porter of Waterloo captured Open and Classified Division titles Saturday at the 43rd annual NYS Queens Championship at Hoe Bowl Holiday Lanes.
Sellens, a 31-year-old right-hander, a former collegiate standout at Wichita State University, defeated Professional Bowlers Association star Liz Johnson of Niagara Falls, 279-189, in the final match for the $1,050 top prize in the Open Division, while Porter, a 23-year-old righty and a graduate student at Adelphi University on Long Island, turned back Sandra Restieri of Rochester, 258-136, for the $550 first prize in the Classified (194-and-Under) Division.
The tournament drew 135 entrants – 105 in the Open Division and 30 in the Classified Division. It took a five-game qualifying score of 1,014 to make the cut (top 24) in the Open Division and 896 to make the cut (to eight) in the Classified Division.
CLICK HERE for the list of qualifiers and payouts.
SELLENS SHINES IN FINALS
Sellens, who qualified in the third spot with 1,129 (behind Johnson's 1,150 and Jackie Carbonetto of Blauvelt's 1,145), was unstoppable in the stepladder finals, rolling 269 in the semifinal match against Rebecca Van Scoyk of Kingston and the 279 against Johnson – leaving only a 2-pin in the second frame.
Van Scoyk defeated Desiree Lee of Endicott, 198-163, in the opening match of the stepladder finals.
"I've been bowling really well lately; everything seems to be falling into place," said Sellens, who moved from Kansas City to Long Island in April of 2013 for job purposes. "There was a bit of an adjustment period (because) Long Island plays so differently. My average dropped about 15 pins but thanks to Alex's help and getting new balls with different layouts, I am back bowling the way I want to."
The Alex she referred to is Alex Cavagnaro, her significant other and the reigning NYS Masters champion. Cavagnaro was at the Queens tournament to support Sellens.
Sellens said she used a Roto-Grip Hypercell throughout the tournament on the WTBA Montreal pattern.
She said this was the second time she competed against Johnson, the first coming 12 years ago in the televised Collegiate/Pro Doubles Challenge. While Sellens said she came out on top again, she acknowledged Johnson's greatness. "Liz is a phenomenal bowler; really she's the best," Sellens said.
Last week, Johnson was selected as the International Bowling Media Association's Female Bowler of the Year. She earned $600 for her runner-up finish at the Queens.
PORTER RELISHES THE MOMENT
For Porter, the Queens Championship was her first singles tournament and she said she enjoyed every bit of it.
"I'm more of a team bowler, having bowled for the Adelphi team," she said. "This was the first time I entered a singles tournament and it was a lot of fun. I met so many people; it was a great experience."
Using a Hammer Midnight Vibe, Porter posted 995 in qualifying and shot 191 in match play to reach the stepladder finals. There, she turned back Suzanne Gruber of Farmingdale, 192-182, before erupting for a 258 game against the top-seeded Restieri. Gruber opened the stepladder with a 191-169 victory over Amy Emens of Rochester.
"At the end of the first game of the finals, I moved a board right with my feet and my eyes and got lined up again," said Porter, who is majoring in Social Work and hopes to land a position in the Long Island/New York City area. "I felt really comfortable going into the last game."
Restieri, the only Classified bowler to average over 200 in qualifying, earned $350 for placing second.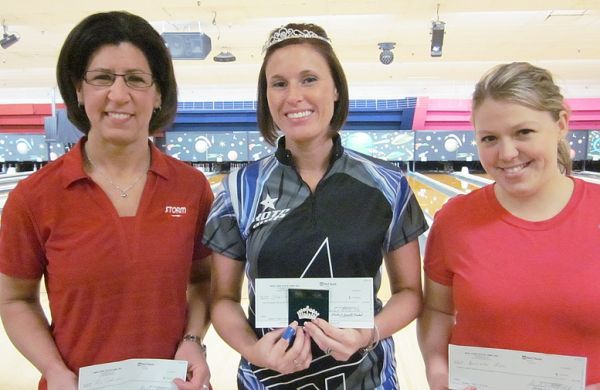 QUEENS OPEN FINALISTS: Stepladder finalists of the Open Division of the 2014 NYS Queens Championship on April 12 in Wappingers Falls -- from left, Liz Johnson of Niagara Falls; Shannon Sellens of Copiague (L.I.) and Desiree Lee of Endicott. Rebecca Van Scoyk of Kingston also re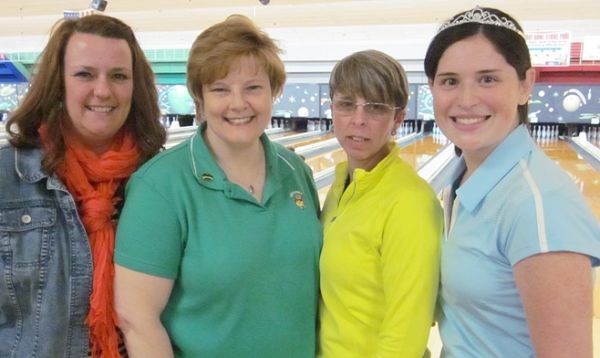 QUEENS CLASSIFIED FINALISTS: Stepladder finalists in the Classified Division are, from left, Amy Emens of Rochester, Suzanne Gruber of Farmingdale, Sandra Restieri of Rochester and Kristina Porter of Waterloo.