45th NYS Queens Championship -- RESULTS
Sellens Wins Open Division for Third Straight Year; Alberti Tops in Classified
APRIL 18, 2016 – Shannon Sellens (Long Island USBC) became the first bowler to win the Open Division of the NYS Queens Championship for the third consecutive year Saturday at AMF Empire Lanes in the Rochester suburb of Webster.
The 33-year-old mortgage banker from Copiague continued her stellar season with a 223-154 victory over hometown favorite Traci Spanitz to take home the $1,150 first prize.
Spanitz, the 2000 Queens champion who rolled a 300 game during the qualifying round, earned $675.
In the Classified (194-and-under) Division, Dena Alberti of Rochester claimed her first singles tournament title with a 165-146 victory over top-seeded Jeanette Sease of Brockport. Alberti earned $500 while Sease won $350.
The Open Division drew 102 entrants, and there were 29 in the Classified Division. The tournament was bowled on the Kegel Beaten Path oil pattern.

Sellens Does it Again
"I feel like Jason Belmonte right now," said Sellens, the former Kansas City resident about her third straight title.
The right-hander was consistent throughout the tournament, rolling nothing less than 201 in her seven games. In the match play finals, she started with 270 in a win over Kate Gardner of Beacon and followed with a 224 in a three-pin win over Heather Gould of Lakewood.
Sellens need to strike on the first ball in the 10th to beat Gould, who had just come off a 233-226 victory over three-time Queens champion Liz Johnson in the previous round.
In the title match of the stepladder finals, Sellens struck in five of the first six frames against Spanitz, who had earned the top seed by virtue of her 230 average for her seven games – highlighted by perfect game to open the five-game qualifying block on the 1 p.m. squad.
Sellens defeated Shanna Chepelsky of Rochester, 226-195, in the semifinal match, after Chepelsky had downed Beckie Ripic of Apalachin, 235-191, in the opening match.
Earlier this season, Sellens won the TNBA Eastern Rhodman tournament, and made it to the finals of a Professional Women's Bowling Association stop in Wichita, Kan., and last year she won the Long Island Masters.

Kristina Wendell (Kingston USBC WBA) was the Open Division's high qualifier with 1,224, including a closing 299 game.
Alberti 'Grinds it Out'
Alberti, a 38-year-old righty, won three matches in the all-Rochester area stepladder finals – beating Amy Emens, Schwaed and Sease – after defeating Rosa Moro of East Syracuse in match play.
"It's my first-ever singles tournament victory and to get it in the Queens, it's even better," she said, overcome with emotion. "I had to grind it out all day; it was work."
Alberti, who works out of her home as a human resources recruiter and as a hair stylist, credited her boyfriend. Chris Werner, for helping her to improve her game and Werner's brother, Dave, as her ball-drilling "go to guy."
Sease led the qualifying with 1,000 for five games – the only Classified bowler to average 200. She also had the high game of 247.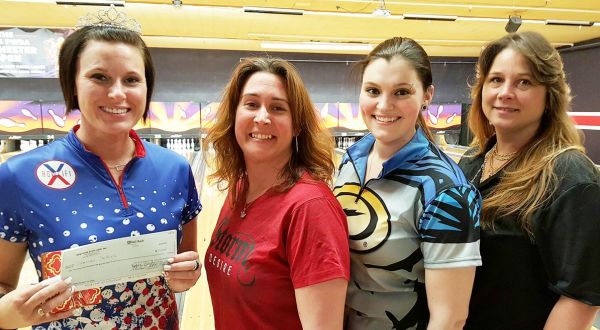 OPEN DIVISION FINALISTS: Making it to the Open Division finals are, from left, Shannon Sellens, Traci Spanitz, Shanna Chepelsky and Beckie Ripic.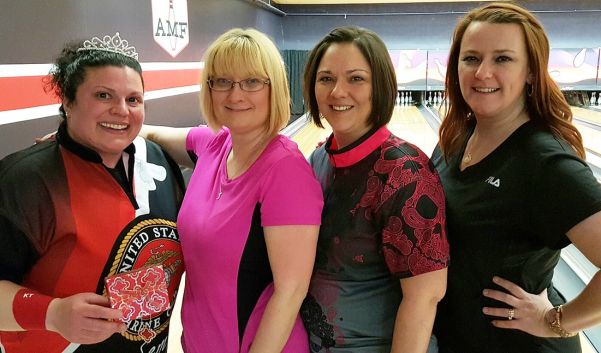 CLASSIFIED DIVISION FINALISTS: Finalists in the Classified Division are, from left, Dena Alberti, Jeanette Sease, Jennifer Schwaed and Amy Emens.